Drop-in Day Centre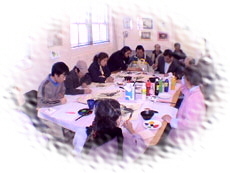 Drop-in day centres are provided in 3 different places in London, it offers an informal therapeutic climate where service users/carers can socialise and provide mutual support.
Staff members are at hand to provide information, support and informal counselling. Staff and service users/carers jointly plan and organise activities such as English classes, craftwork teaching, leisure activities and outings.
All centres open from 11am to 3pm, provide hot lunches and refreshments; Vietnamese/Chinese magazines, newspaper and video music. Attendance contributes £2.00 per session.
Day centre's addresses and date of opening:
Every Wednesday and Friday at Tower Bridge:
Vietnamese Mental Health Services
25 Fair Street
London
SE1 2XF
Telephone: 020 7234 0601